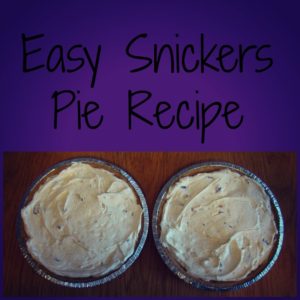 If you love Snickers candy bars then you will love this Easy Snickers Pie recipe. My cousin Vicky made this pie for me several years ago, and it is one of my favorite pies! (Second only to Nicholas' Apple Pie that he makes me for my birthday).  It is so easy to make, there's no need to bake it and they are always a crowd pleaser.   And as an added bonus, the recipe makes two pies!  So it is a perfect recipe if you are having a big party…so make one for that party you are going to, and save the second pie for yourself!  I've also made the two pies and froze the extra one for a later date.
If you love Snickers you MUST try this recipe!  It will wow your friends and family and you do not even need to tell them how easy it was to make, just let them think you worked all day in the kitchen.
Easy Snickers Pie
Source: Vicky's Kitchen
Servings: 2 pies, 16 slices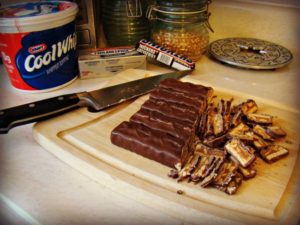 Ingredients:
5 Snicker Bars, regular size
8 ounce cream cheese
16 ounce container of whipped topping
1 1/2 cups powdered sugar
1/2 cup peanut butter
2 pre-made pie crusts (your choice of graham, shortbread, or chocolate)
Directions:
Whip cream cheese and powdered sugar together. Add all other ingredients and combine well. Pour evenly into crusts, refrigerate overnight. Serve chilled.