I've been making this Bruschetta Dip recipe quite a bit lately, so I thought I would share it with all of you.  I have changed &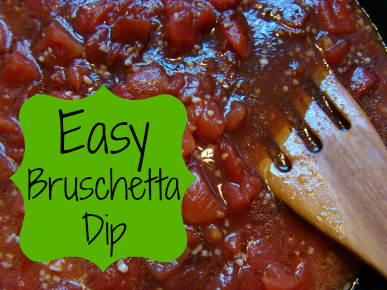 adapted this recipe quite a bit over the years, and it's now one of my favorite appetizers to take to a party.  I call it Bruschetta Dip because usually bruschetta involves bread topped with olive oil, tomatoes, garlic, and cheese.  My dip has the tomatoes and garlic component, and can be served as a dip with pita chips, or you can scoop some out onto individual slices of toasted baguette and then top with a bit of shredded Parm or Mozzarella.  I prefer it as a dip because it's easy to prepare and easy to serve.  And it's always a crowd pleaser.  It's also a tasty sauce to pour over pasta
The recipe makes quite a bit, so when I make this I often split the recipe into two containers, one for whatever occasion I have cooked it for, and the other to freeze for future use.  You know I love my deep freeze.  It's always good to have an appetizer or two in the freezer for unexpected company, or for taking to a last minute gathering.  It doesn't take long at all to make this, and it will make your house smell like an Italian Restaurant in the process.  You can substitute fresh romas for the canned tomatoes, unless like me, you have no romas in the garden thanks to some starving neighborhood deer.
Enjoy!
Easy Bruschetta Dip
Easy Bruschetta Dip
Ingredients
3 Hearty Spoonfuls of Minced Garlic (yes, the jar kind..it's just too easy)
2 Tbs. Olive Oil
3 cans diced Tomatoes (drained)
2 Tbs. Balsamic Vinegar
2 tsp. Basil
½ tsp. Pepper
½ tsp. Salt
Instructions
-Saute garlic in oil until brown (about two minutes)
-Stir in tomatoes & vinegar, stirring frequently, cook 20-30 minutes until mixture thickens.
-Stir in basil, salt and pepper
-Serve warm with Pita Chips for dipping, or spoon some of the tomato mixture onto toasted baguette slices and top with shredded Parm or Mozz, serve over pasta or put in an airtight container in the freezer for a later date.