Pizza & Salad is a favorite dinner around our house.  I'd say we have it on the menu almost every week.  When Michael and I were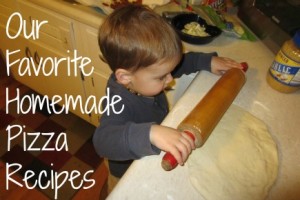 first married he would make the dough and I would make the sauce, and we made some very yummy homemade pizza.  As the years past and we added four kids to the mix things changed….we were buying pre-made crusts (which aren't bad but have NOTHING on homemade dough!) and jars of sauce.  I've decided we need to go back to our roots and start making the dough and sauce again ourselves.  I started this week by making pizza dough for the first time.  I'm here to tell you it was the easiest thing to make, and ten times better than the store bought crust.  It's especially easy if you let your mixer do the work.  In my excitement over the changes were making to pizza night, I want to share our favorite recipes with you.
Our Favorite Homemade Pizza Recipes:
Classic Dough & Sauce recipes (tried and true!)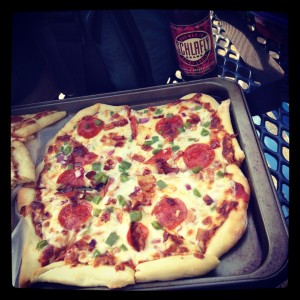 White Pizza with Chicken Sausage and Onions
Cincinnati Style Chili Pizza
White Pizza with Lemon Basil and Grilled Chicken
And for dessert…Fruit Pizza cookies!
What's your favorite kind of Pizza Pie?  Please share recipes in the comments below, as I'm always looking for new things to make!
(taste testing the dough)