Recently my family was given the opportunity to try out Moda Yoga for a month.  We had an adult pass and a child's pass.  Since my schedule for this particular month seemed crazier than usual running kids all over the place and such, I offered the pass to Michael.  He was eager to try it out.  He loves to exercise…running, swimming laps, bicycling, working out, etc, and he had always had an interest in trying Yogo, so it was a perfect fit!
For the child's pass I had to choose either Sam or Henry, as the children's class in the NKY location is for 3-6 year olds.  There are classes for older children at their Cincinnati location though!  Had it fit into Ella or Max's schedule I would have taken them to try it out in Cincinnati.  For our first visit I left both Sam and Henry for the hour long Yoga class while Ella and I ran a few errands (whoa…errands with just one child?!?! Heaven!).  Before we got to Moda Sam (aka: my little grouchy old man) complained that he DID NOT WANT TO GO TO YOGA!  Mind you, he had absolutely no idea what Yoga was, only that it wasn't for him.  I promised him that he only had to try it one time, and if he didn't like it then he didn't have to go back.  I told him that I just needed his opinions on what the class is like.  So he begrudgingly went to class.  I kind of thought he was going to like it…and we all know that Mama knows best.
When Sam came out of class he was beaming with pride because he had made up his own Yoga pose called "The Otter" and taught it to the other students in the class.  And before we had even left the building he was begging to come back the next week.  He really digs the Yoga class, and during the week I often catch him practicing the poses and trying to teach his siblings.  And Michael attended the Moda Flow hot Yoga class.  It's conveniently scheduled at the same time as the Kid's Class on Saturdays from 12-1, so he could take Yoga at the same time as Sam!  Michael enjoyed the hot Yoga class, he was a bit unsure going in since he had never taken a class before, but he said that the instructor was great about encouraging him to move at his own pace, and spend the first class adjusting to the heat, learning to breathe and figuring out the poses.  I'm so glad we had this opportunity to check out Moda Yoga, because I feel like we found a new activity to help our family live a healthier life.  And who knows, once I get these kids back in school next month, maybe I'll finally be able to check out a class myself!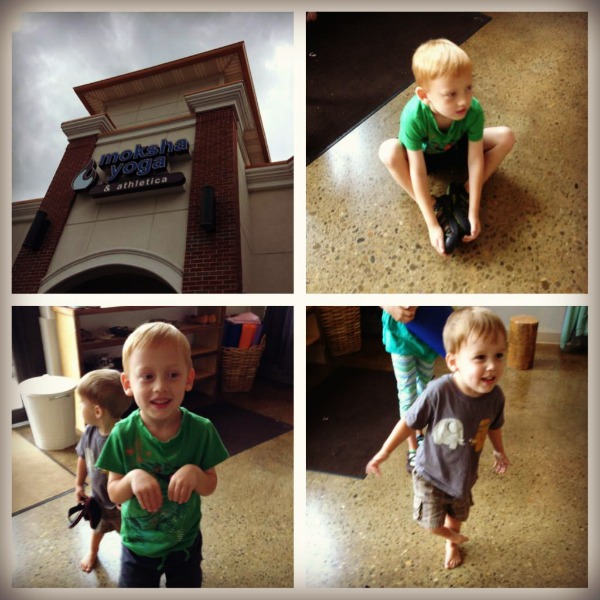 Here's a little bit of information about Moda Yoga:
Moda Yoga is a group of independent hot yoga studios committed to ethical, compassionate and environmentally conscious living, and believe that the benefits of yoga are limitless and accessible to all. Moda Yoga is a green, clean, hot yoga series that stretches, strengthens and tones the muscles while detoxifying the body and calming the mind. While all classes are rooted in the Moda Yoga series, teachers are encouraged to bring their own unique knowledge and experience every time they enter the room to teach.
The Moda Yoga website can give you all the details about location, class schedules, what to bring, etc.  And if you have more questions, give them a call, they are always glad to help people learn more about Yoga and find the right fit for them!  Moda offers a wide variety of classes, even a glow in the dark class!  So I'm thinking there's something for everyone.
The Moda Yoga GIVEAWAY!  ***THIS GIVEAWAY IS NOW CLOSED!***
Congrats to Kellie…you won the month passes!  Contact me within 48 hours to claim your prize!  Katie(at)Cards-by-Katie.com
The Details:
One lucky reader will receive a FREE MONTH pass to Moda Yoga to be used at any of their three locations for one adult and one child.  The passes are good for one month from the start date of your choosing.  One winner will be chosen by random on Friday, July 26th at 2pm.  The winner must live in the Cincinnati/Northern Kentucky area and be 18 years of age.  Once the winner has been drawn I will announce their name on the Little Things Blog Facebook page and here on the blog.  If you leave an email address in your comments I will attempt to email you.  The winner has 48 hours to respond or another name will be drawn.
How to Enter:
You only need to complete the Mandatory Entry to be entered into the contest, but feel free to enter a few more times using the bonus entries.  LEAVE A SEPARATE COMMENT FOR EACH ENTRY!
Mandatory Entry:
1. Why do you want to win a free month-pass to Moksha Yoga for an adult and one child?
Bonus Entries:
2.  Share this contest and then leave a comment telling me how you spread the word.  If you share via Twitter, please be sure to use @LittleThingsMomand @MokshaHotYoga in your tweet.  And if you share via Facebook please tag the little things blog.
3.  Leave a comment below telling me one healthy living tip.
4.  Check out "the little things blog" on Facebook, and if you are already a fan of that page, check out my other page to support my arts…the Cards by Katie facebook page.  If you like what you see on these pages feel free to spread the word about them by sharing with your friends. Leave a comment below telling me you did so.
5.  Follow me on Pinterest and leave a comment below telling me you did so.
6.  Sign up for the little things blog ENewsletter (at the top right-hand side of this page) and then leave a comment telling me you did so.
Disclaimer: In exchange for hosting this giveaway I was given free passes to Moksha Yoga. All opinions above are my own.