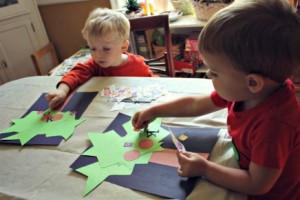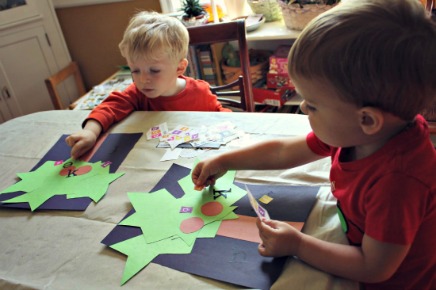 Are you looking for a simple craft for the kids to work on that will strengthen letter recognition and fine motor skills?  How about making a Chicka Chicka Boom Boom Sticker Craft with them?  Before you do this craft though, you simply must read the book together with your child (Chicka Chicka Boom Boom by Bill Martin Jr. and John Archambault, illustrated by Lois Ehlert).  It's a fun book to help kids start to recognize their letters.  After you've read the book you just need some colored paper and ABC stickers to make a educationally fun craft for young ones!  This project is best for kids aged 2-5, and not only will it help with letter recognition, but it's great for fine motor skills too, because removing the stickers from the paper is not easy…they really have to focus and use those little fingers with finesse!
Chicka Chicka Boom Boom Sticker Craft:
First, gather your materials: black or white paper, brown paper, scissors, glue stick and ABC stickers (I always use my leftover scrapbooking stickers to give them some variety)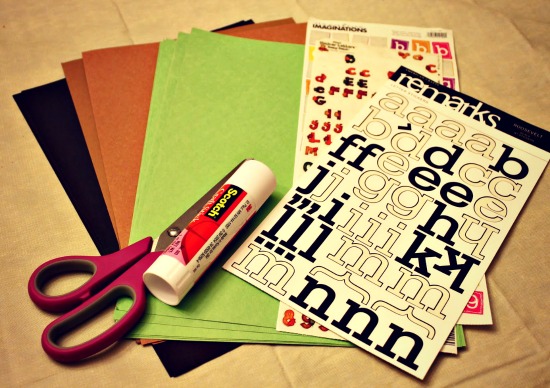 Using the Chicka Chicka Boom Boom book as a guide cut out brown and green paper to make a coconut tree (it's very easy…and the toddlers didn't care about imperfections in my tree-designing skills).  Glue the trees to the black (or white) background paper.
Next…give the children stickers and let them go!  While they worked I pointed out letters, demonstrated the sounds the letters made, and helped peel stickers as needed.  The boys (age 3) worked on this almost independently.  Afterwards we read the book again (and again…and again).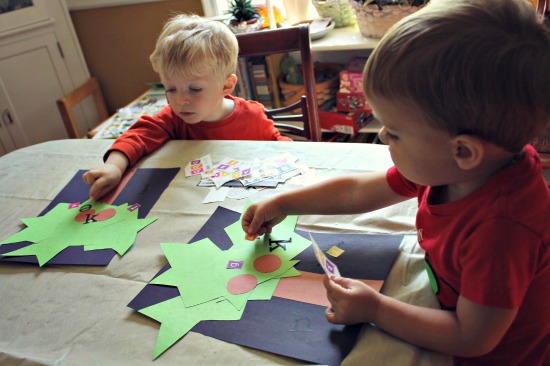 This is a great at-home project, or a project for an early childhood classroom.  Another great Chicka Chicka Boom Boom activity is the Chicka Chicka Boom Boom Magnet Letter Activity.