Etsy Crafter Spotlight :: In an effort to encourage folks to support small businesses, I will be  highlighting various Etsy crafters on the Little Things Blog to introduce you to some of my favorite crafters on my favorite website.  Of course, if you are on Etsy I always recommend stopping by the Cards by Katie shop to see all of my note cards! 
Ellie Shea Originals: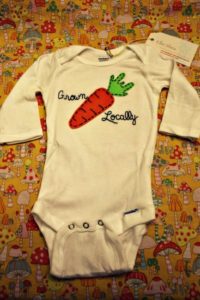 Are you looking for a unique gift for a new baby or small child?  Might I suggest Ellie Shea Originals?  Michelle Higgins is a stay at home mother like myself who is using her talents to create unique & adorable shirts for wee ones to sell on Etsy.  I stumbled across her shop while searching for the perfect gift for my cousin's new baby.  I wanted a onesie that would speak to the fact that Anna and her husband run my beloved CSA, Rains & Sun Hilltop Farm.  I found the shirt you see to the right and was immediately smitten with it.  It was perfect!  Michelle hand cuts and stitches the appliques on her shirts, and she has a pretty varied selection…with everything from Elmo, to a stethoscope, to moustaches to rock and roll, to gamer geek wear and more!  She can also personalize shirts or make custom shirts, just convo her to find out more.  I really loved the shirt I chose for baby Greta, and I plan on shopping at Ellie Shea in the future!  Take a minute to visit the Ellie Shea Originals Etsy Shop, or give her Facebook page a "like" so you can keep up with new designs.  And keep this shop in mind next time you need a baby shower gift or a birthday present for a small child.
Disclaimer ::  Etsy Crafter Spotlights are my own creation.  I'm not being paid to highlight this wonderful artist, I just love their work and want to spread the word.  Spend some time on Etsy and visit my shop, Cards by Katie and then peruse all of the other top-notch crafter shops!