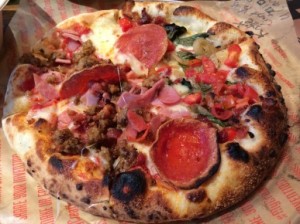 At Cucinova in Kenwood your creativity is the driving force behind your meal.  For $6.99 you can choose a pasta, pizza or salad and make it just about any way you'd like!  Cucinova offers a wide variety of fresh topping to choose from when designing your perfect pizza, pasta bowl or salad.  Cucinova offers you all the tools you need to make yourself your own creation for dinner, yet they do all the work for you!   I spent tonight with some lovely local bloggers at Cucinova getting a sneak peek at all they have to offer.  We tasted salads, pastas and pizzas, and I heard nothing but positive commentary coming from all around the room.  The decision making was tortuous for me (sooooo many choices) but the food was delicious!  And I'm eager to get back there to try more of my own creative food inventions.  I'm going to describe our dining experience to you with pictures so you can see exactly how fun it is to dine at Cucinova.
Dining at Cucinova ::
Step One:  Choose what you will have to eat.  Will it be pizza?  Pasta?  Salad?  One of each?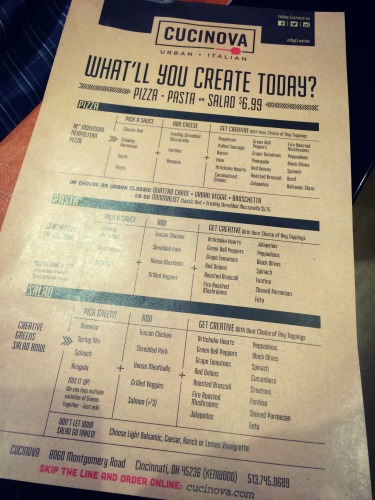 This is a terrible picture of the menu, but let me tell you about it…there are over twenty-five toppings to choose from there!   If you are like me and have a terrible time making decisions when faced with lots of choices, they have some ideas for you to choose from: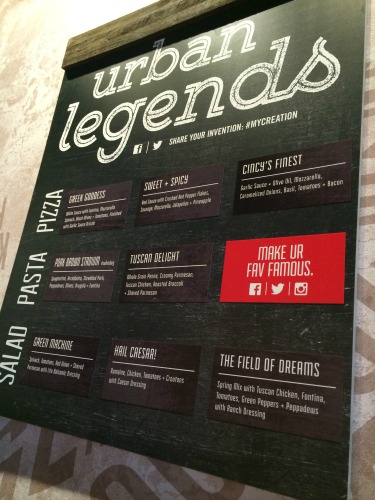 Step Two: Step up to the counter, place your order and watch the magic happen.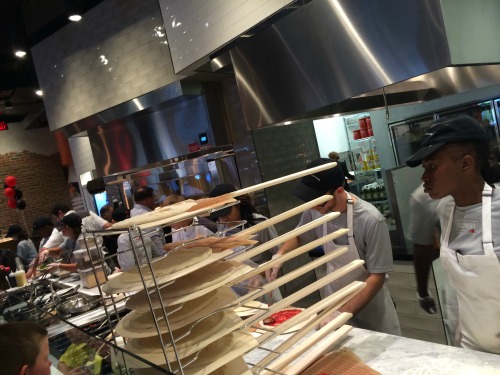 If you order pizza you will watch the artisans stretch and knead the dough, add the toppings, and then stick it in the Wood Stone oven where it cooks for about three minutes at 700º!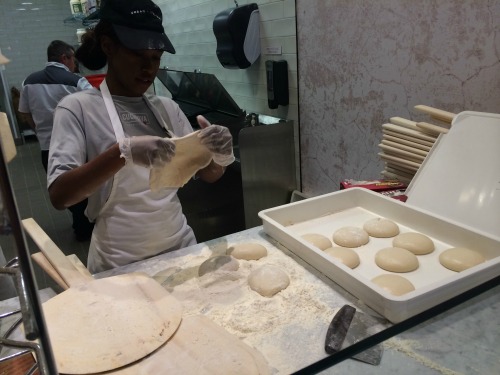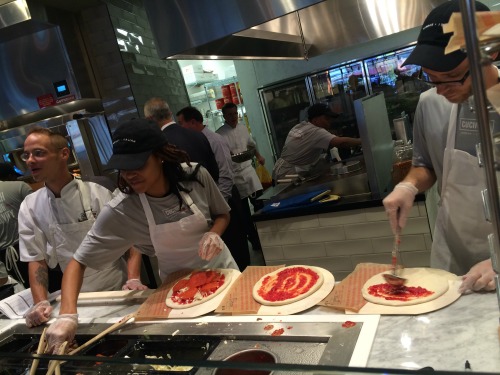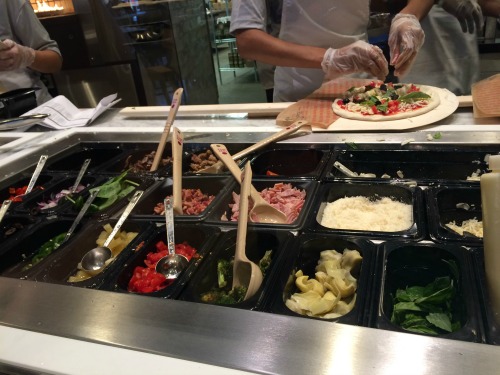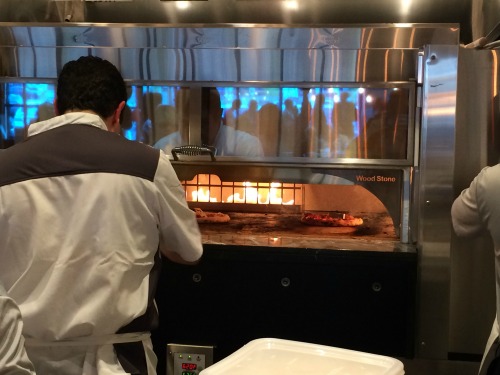 After you pass the pizza "station" you can watch them prepare the pasta dishes, with three different sauce options, oodles of toppings and fresh cheeses: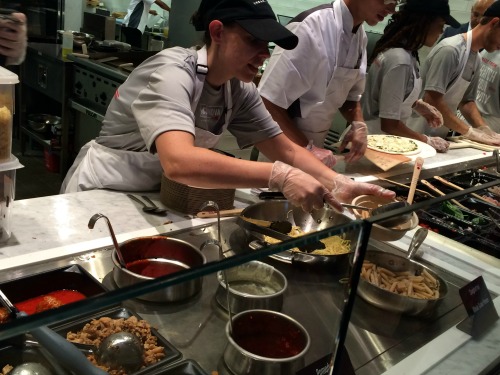 Next stop, Salads!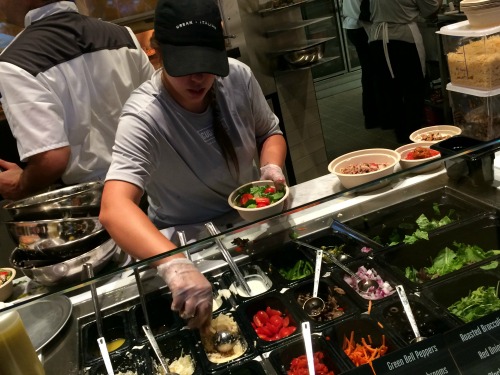 Step Three:  Choose a beverage.  Along with the usual soft drinks, they offer beer, wine, San Pellegrino sparkling beverages, Lemonade and Strawberry Lemonade.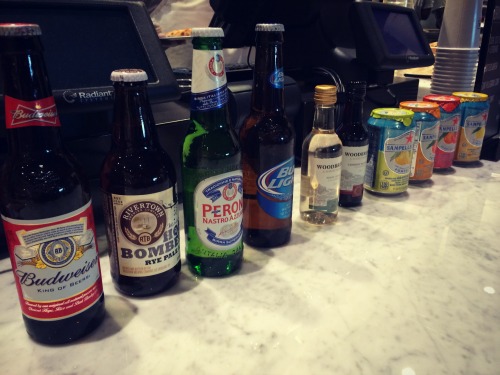 Step Four: Pay for your dinner and take it to your table.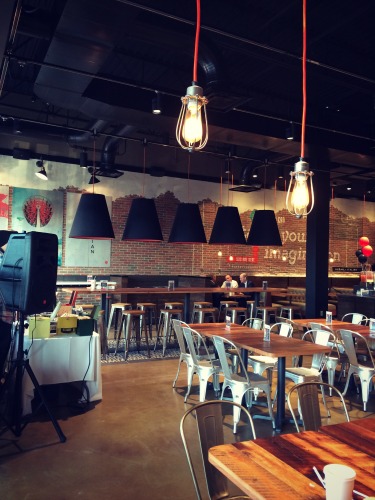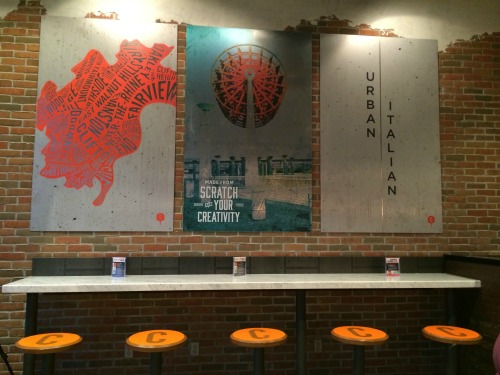 So there you have it, dinner in four easy steps, where someone else does the prep-work, cooking and clean up for you!  Cucinova is is described as an "Italian fast casual restaurant" – that sums it up best.  The only word they left out of that description is "delicious".
I will be heading back to Cucinova soon with the whole family.  It's a perfect place for us to dine because the picky eaters can get whatever suits them on their pizza or pasta, and the more adventurous eaters can get crazy with their creations.
What will you create at Cucinova?
Cucinova opens in Kenwood on Friday, October 3rd.  To celebrate its arrival in Cincinnati, Cucinova is inviting Tri-State residents to show off their culinary creativity for free with a grand opening celebration event on Thursday, October 9. All guests who visit the new Kenwood location between 11am and 8pm that day will receive a free Neapolitan pizza, spaghettini bowl or salad.
Cucinova is located at 8060 Montgomery Road in Kenwood and will be open Monday – Thursday, 11am to 10pm, Friday & Saturday, 11am – 11pm and Sunday, 11am – 9pm.
Disclaimer:  I enjoyed a complimentary meal at Cucinova, all opinions are 100% my own.