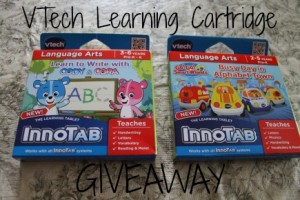 A while back I was asked to review the VTech InnoTab MAX which is a tablet for children.  You can read my review in this post, but in short, we loved it.  Henry still uses it constantly, and he's learning while he plays!  Now I have two great VTech learning cartridges to use with the InnoTab that are up for grabs.  The learning cartridges are perfect for preschoolers: Learn to Write with Cody & Cora and Go! Go! Smart Wheels® Busy Day in Alphabet Town.  Henry has spent the last few weeks checking out these games, and I have to say, I think they are pretty awesome.  He is four years old and will be in Kindergarten next year, so any chance I have to expose him to more reading and writing is great for preparing him for the next step in his education.  I've noticed that since he's been playing with these two games that all of a sudden he's writing more often – practicing letters with stencils and he's constantly asking me to spell words and he's been identifying letters in the world around him.  So…jackpot!  The two games have expanded his interest past the tablet and into our day to day life.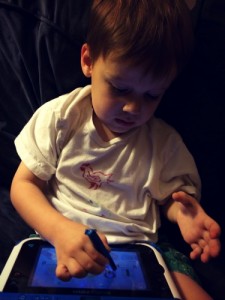 In this day and age technology surrounds us, and I feel as a mother and a former educator that we need to embrace this and use technology to our advantage to help kids grow and learn.  I find that my kids are more excited about practicing math or writing when it comes in the form of a video game or app.  Who wouldn't prefer that to a worksheet filled with math facts?  I taught preschool years ago and we had some ancient computers in our classroom.  What I wouldn't have given to have some learning tablets for the kids to use!  And the Learn to Write with Cody & Cora and Go! Go! Smart Wheels® Busy Day in Alphabet Town games would have been a great asset to my preschool classroom!  The games are easy to navigate, have lots of options for play and most importantly, as I said…they teach the children!
Here is some more information about the Learn to Write with Cody & Cora and Go! Go! Smart Wheels® Busy Day in Alphabet Town learning cartridges for you to read, and then be sure to scroll down to the bottom to enter to win your own learning cartridges you can use with a VTech InnoTab.
VTech InnoTab Learning Cartridges ::
Parents can extend the play value of their VTech toys by purchasing new Learning Cartridges for InnoTab Learning Tablets.
A range of educational cartridges are available, offering age-appropriate games, e-Books and more that allow children to progressively learn key subjects such as math, reading and science in steady stages.
Interactive e-Books teach reading and vocabulary, while creative activities and camera fun inspire children's imaginations.
The cartridges are compatible with all current InnoTab models and will also work with new models that will be released later this year, including the InnoTab MAX (vtechkids.com/itmax), its fastest Wi-Fi tablet yet and its first to feature Android™ learning content.
 InnoTab® Learn to Write with Cody & Cora learning cartridge
(Ages 3-6 years; MSRP: $24.99)
Go on learning adventures with Cody the Smart Cub™ and Cora the Smart Cub™ in Learn to Write with Cody & Cora for InnoTab. Read the e-Book about an adventure Cody and Cora take while writing and spelling words.
Learn and develop handwriting skills in a progressive manner with 11 activities and games.
Includes a fun e-Book about an adventure with Cody and Cora
InnoTab® Go! Go! Smart Wheels® Busy Day in Alphabet Town learning cartridge
(Ages 2-5 years; MSRP: $24.99)
Explore Alphabet Town with Casey, Paul, Frank and Cyrus in the Go! Go! Smart Wheels Busy Day in Alphabet Town game for InnoTab. Read about their adventure in the e-Book or join the residents of Alphabet Town as they build roads, rescue kittens and more in fun learning games.
This InnoTab software title features nine creative activities and learning games that teach letters, numbers and more.
 VTech InnoTab Learning Cartridge Gift Pack Giveaway ::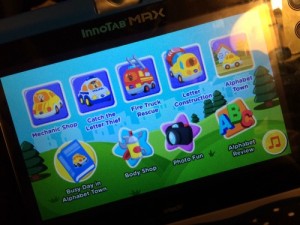 The Details :: 
I'm excited to announce that one lucky reader will receive a gift pack that includes two VTech InnoTab Learning Cartridges:  Learn to Write with Cody & Cora and Go! Go! Smart Wheels® Busy Day in Alphabet Town. The winner will be randomly chosen on Thursday, December 4th at 8pm.   The winner will be announced on the little things blog Facebook page and I will send you an email.  If the winner does not respond within 24 hours another winner will be chosen.  You have FIVE chances to win.
How to Enter:
1.  For your first entry, leave a comment telling me who you would give these VTech Learning Cartridges
The following entries are optional BONUS entries! Please leave a SEPARATE  COMMENT for each entry!
3.  Share this giveaway with your friends on Facebook, and be sure to tag "the little things blog" and in your post!  Leave a comment telling me you shared.
4.  Tweet about the giveaway!  Make sure you add @LittleThingsMom & @VTechToys in your tweet!  And then comment below telling me you did so.
Disclaimer: The VTech product, gift card, information, and additional gift pack have been provided by VTech but the opinions are 100% my own.