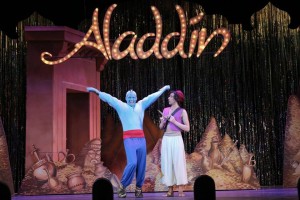 Tonight was opening night for Disney's Aladdin JR, presented by the Children's Museum of Cincinnati at the Taft Theatre.  I'm going to go ahead and start this post by saying that this was my favorite Children's Theatre production to date.  Maybe it's because I've been obsessed with Disney's Aladdin since it was created (I can pretty much say it line for line while watching) or maybe it's because my boys will be participating in their school's production of Aladdin this month.  Or maybe it's because this production included tap dancing, the artist formerly known as Prince, and spectacular circus acts like acrobats on silks from the Cincinnati Circus Company.  Or is it because Bob Herzog from Channel 12 played the second best Genie performance I've  seen?  <Insert moment of silence for the late great Robin Williams>  I was wondering how Bob would pull off one of my favorite Robin Williams roles…and he was fantastic!  He brought his own panache to the show and added his own little ad-libs (like a commentary about traffic on the Cut in the Hill).  He really put his own spin on the character and just about stole the show with his performance!
Aladdin & Jasmine were perfectly portrayed as well…a long with the Sultan and Jafar.  The characters were all portrayed as they should be (according to my self-proclaimed Aladdin expert mind).  I was all but singing and dancing along.  It took all of my effort to sit quietly and watch the show.  All of the actors, actresses, dancers, singers and circus performers really gave it their all in this show and did a wonderful job of bringing one of my favorite Disney Classics to life.  My boys loved the show too!  And all the way home we talked about our favorite performers, our favorite scenes and all of the cool special effects.  One thing we all noticed was that the young lady who was the puppeteer and voice for the bird Iago did a remarkable job!   I will say that I missed Abu and Raja…but you can't have it all in a show that crams all kinds of amazing stuff into a short children's theatre production.  They made up for not having Abu and Raja by having adorable peacocks, a camel that had my boys giggling and a majestic elephant.
There are a few more performances of Aladdin this weekend and next, but you should get your tickets soon as they are selling fast!  It's a fantastic show and not only will your children love it…but so will the parents!  It's a show for all ages!
All About Aladdin ::
 Aladdin is a street rat who must borrow and steal to survive. When he runs into Princess Jasmine the day before her arranged wedding, they begin an unlikely friendship. In captivity, Aladdin finds a magical lamp revealing a Genie who grants wishes.  Just wait till what happens next!  This show will take you to "A Whole New World."

 DISNEY'S ALADDIN JR. is a collaboration with The Cincinnati Circus Company, who will bring jugglers, aerial acrobats, stilt walkers and more to the Taft Theatre stage!  And, Local 12's Bob Herzog will be featured as the Genie!

DISNEY'S ALADDIN JR., The Children's Theatre of Cincinnati, through April 18. 7:30 p.m. Friday April 10; Saturday April 11, 2 PM and 5 PM; Sunday, April 12 and Saturday, April 18, 2 PM; Taft Theatre, 5th and Sycamore Streets in Downtown Cincinnati. Tickets $7-$25. 1-800-745-3000 and www.ticketmaster.com. 
Visit the Children's Theatre website for more details!  ***PHOTO CREDITS:  Mikki Schaffner took all of the beautiful pix from the Aladdin performances you see in this post.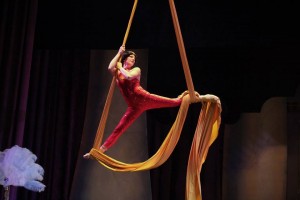 Disclaimer:  My family received two free tickets for review purposes.  Opinions are 100% my own!