For my family the arrival of summer also means the arrival of fresh, organic produce from our CSA.  One of my favorite veggies in the produce shares over the summer is Sugar Snap Peas.  They are so delicious!  My cousin Vicky taught me an easy way to prepare them, and they are always a hit as a side for any kind of meal during the summer.
Sugar Snap Pea Stir-Fry ::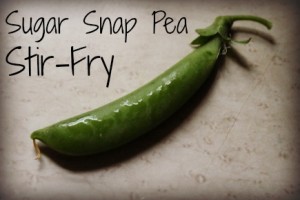 Ingredients:
Fresh Sugar Snap Peas
Olive Oil
Minced Garlic
Soy Sauce
Instructions:
Step One:  Trim the ends off of the peas (or enlist the help of a Kitchen Minion for this task).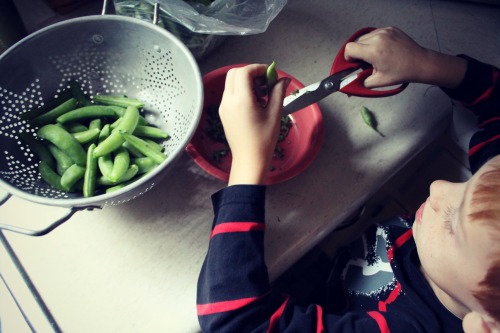 Step Two:  Rinse the Snap Peas.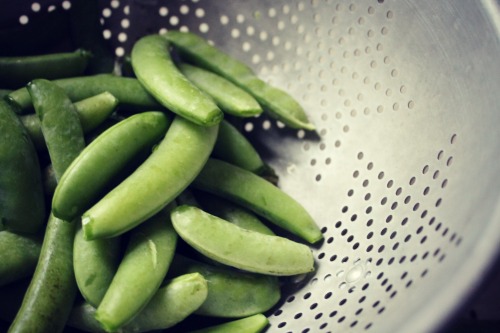 Step Three:  Saute the Snap Peas.  Heat a little bit of Olive Oil in a skillet (med-high heat).  Add some minced garlic  (I use a tablespoon of the minced garlic from a jar) and the Sugar Snap Peas and cook until they turn bright green (just about 5 minutes or so).  Add four or five dashes of Soy Sauce and heat for another two minutes.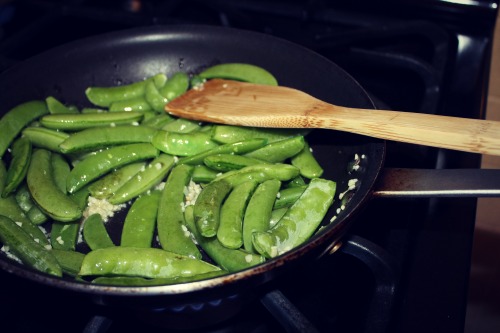 Step Four:  Enjoy!