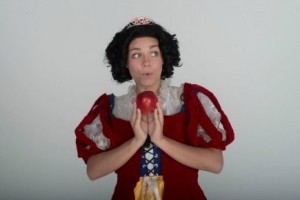 Snow White was one of my favorite cartoons growing up.  I have a soft spot in my heart for sweet Dopey.  I'm excited to find out what the Children's Theatre of Cincinnati does with this show when they bring it to life on the stage at the Taft!  All of their shows that we have seen over the years have been fabulous, so I'm sure that Snow White and the Dancing Dwarfs will be no exception.  The Children's Theatre productions are a perfect way to introduce the youngest members of your family to the theatre, but they are also always entertaining for the adults as well.  I promise these shows will make you feel like a kid again!  Read all about the show below and then be sure to enter the giveaway to win tickets to the show!
Snow White & the Dancing Dwarfs:
Did you know that Snow White's Dwarfs are dancers?  Come see for yourselves as the classic Brothers Grimm fairy tale of Snow White, her evil stepmother, the all-knowing mirror and the handsome (but not-too-brainy) prince, step their way back into your hearts and imagination.  This is a world-premiere production you don't want to miss!
SNOW WHITE AND THE DANCING DWARFS presented by The Children's Theatre of Cincinnati, February 12-21, 2016. Friday February 12 at 7:30 PM; Saturday February 13 at 2 PM; Sunday, February 14 at 2 PM; Saturday, February 20 at 2 PM and 5 PM; and Sunday February 21 at 2 PM.  At the Taft Theatre, 5th and Sycamore Streets in Downtown Cincinnati. Tickets $7-$25. 1-800-745-3000 and www.ticketmaster.com.  Tickets are selling fast!
Snow White & The Dancing Dwarfs Ticket Voucher Giveaway ::
The Details ::
I have vouchers to give away that can be redeemed for 4 tickets to see Snow White & The Dancing Dwarves at the Taft Theatre on Friday, February 12th at 7:30 pm.  I will draw one random winner on Tuesday, January 26th at  8pm.  The winner will be emailed and have 24 hours to contact me via email or another name will be drawn. I will mail you the vouchers which you will need to take to the Taft Theater box office the day of the show (Box Office opens 90 minutes before) to trade for tickets.   Subject to availability.  Please be sure you are available on this date before entering the giveaway.
How to Enter (answer this question):1.  Who is your favorite character in Snow White?
The following entries are optional BONUS entries! 
IN ORDER FOR BONUS ENTRIES TO COUNT YOU MUST LEAVE A SEPARATE COMMENT FOR EACH ENTRY!
3.  Share this giveaway with your friends and then leave a comment telling me you shared.
4.  Tweet about the giveaway!  Make sure you add @LittleThingsMom and @TCTCincinnati in your tweet!  And then comment below telling me you did so.
5.  Follow along…sign up for Email Newsletters for this blog (upper right hand corner of this blog) and then leave a comment telling me you did so.  Or if you follow along another way then tell me that.
Disclaimer: I was given ticket vouchers to give away as well as tickets for my family to attend the show.  The opinions are 100% my own!