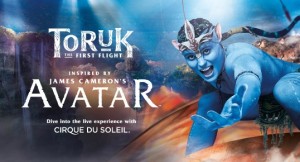 Over the years I have seen a few Cirque du Soleil shows, and each one is more fascinating than the next.  It sounds like the Cirque du Soleil production of Toruk is going to amaze and astound as well!  Toruk is based on one of my family's favorite movies, AVATAR and will be coming to US Bank Arena in May.  If you are like me and can't wait to see this beautiful show be sure to get your tickets soon.  Here's some details about the show and a video to give you an idea just how cool this show is going to be…
Cirque du Soleil's Toruk ~ 
Cirque du Soleil's newest touring show, TORUK – The First Flight, is inspired by James Cameron's record-breaking movie AVATAR. TORUK – The First Flight will be at U.S. Bank Arena May 4-8, 2016, as part of a global tour presented by Visa Signature.
"TORUK – The First Flight is a completely different type of show for both Cirque du Soleil and entertainment as a whole," said tour spokesperson Laura Silverman. "For Cirque du Soleil it is a lot of firsts – the first time presenting a show inspired by the movie, the first time having an English speaking narrator guide the audience, the first time incorporating puppeteers and large scale puppets as well as kites, and more!
"We are also using video projection and special effects in a new way.  The entire stage and set are covered by projections (we have 40 projectors on tour) to bring the flora and fauna of Pandora to life and really create an immersive atmosphere."
The show premiered in November 2015 in Montreal and will be in Louisville, Kentucky at the end of April 2016 before landing in Cincinnati on May 4.
"This is a great show for families!  The story is easy to follow with the help of an English speaking narrator and it focuses on three young teenagers on a quest to save Pandora," said Silverman. "Along with the colors, music, and spectacular visuals, it is a fantastic show for people of all ages!  The puppets especially are always a hit amongst our youngest fans!  They recognize them as being similar to animals they already know and the way the puppeteers bring the creatures to life is really inspiring."

Ticket information 
TORUK – The First Flight will be presented at the U.S. Bank Arena on May 4-8, 2016. Tickets can be purchased at https://www.cirquedusoleil.com/toruk.
Follow us on Facebook : https://www.facebook.com/torukthefirstflight
Find us on Twitter with #TORUK
For more information about Cirque du Soleil, visit https://www.cirquedusoleil.com.