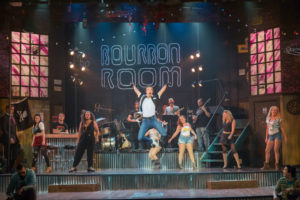 Ella and I went to see Rock of Ages at the Carnegie this past weekend and I've been belting out 80's tunes around the house ever since.  My children are un-amused, but I just can't help myself.  Rock of Ages was all about rock and roll and fighting the system.  The storyline was weaved together using one 80's hit after another.  You couldn't help but laugh at the antics and sing and dance along to the musical numbers.  The majority of the cast was young, some probably weren't even alive in the 80's but they played the youth of the eighties with panache.  The singing and dancing made you feel like we were in a dance club.  Get out your leg warmers and work on your big hair and get yourself some tickets to see Rock of Ages before it ends in a few weeks!
Rock of Ages: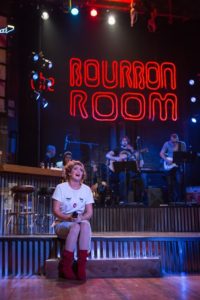 The Carnegie patrons can expect "Nothin' But a Good Time" with the 2016-17 Theatre Season opener, ROCK OF AGES. The classic boy meets girl tale features classic 80s hair band hits and runs weekends August 13-28, 2016.
Directed by Lisa Bodollo and presented by The Carnegie and Northern Kentucky University's Commonwealth Theatre Company, ROCK OF AGES tells the story of Drew, an aspiring rock star, and Sherrie, a young woman who just arrived in L.A. to seek fame and fortune as an actress. The two meet at the bar where Drew works and quickly find they have feelings for each other, but the trials and tribulations of the rock and roll lifestyle keep them apart. Drew must decide between his dreams of stardom and the woman he loves as she boards a midnight train going out of town. With hit songs like "Hit Me with Your Best Shot," "Sister Christian," and "We Built This City," the audiences will find it hard not to sing along.
"Rock of Ages is the perfect way to kick off the season. It's a total show stopper that brings tons of energy and fun to the stage from the first notes," said Maggie Perrino, Carnegie Theatre Director. "It's a nostalgic romp with 80s music, 80s fashion, 80s hair, and that 80s dream of stardom, perfect for a fun night out with friends. "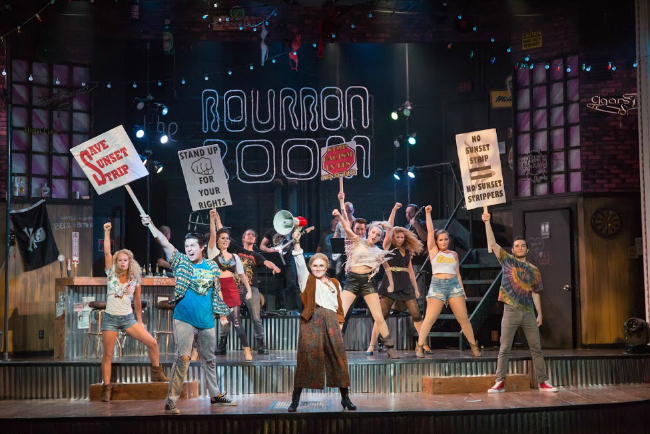 Showtime Information: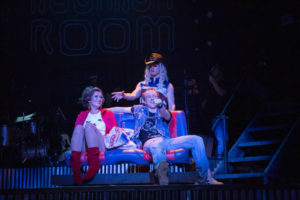 Performances of ROCK OF AGES run weekends August 13 – 28, Friday & Saturday evenings at 7:30pm, Sundays at 3:00pm. Tickets are $28, $25 for Carnegie Members and Enjoy the Arts Members, $21 for students. Subscription packages for the 2016-17 theatre Series are available. Full Subscriptions are $95, $91 for Carnegie Members. Pick Three Subscriptions range from $72-$77 depending on show selection. Tickets and subscriptions can be purchased through The Carnegie Box Office, open Tuesday – Friday 12pm – 5pm, in person or by phone at (859) 957-1940, or online at www.thecarnegie.com. Patrons seeking group or student tickets should call to make arrangements.
Disclaimer:  I was provided with complimentary tickets to see Rock of Ages but all opinions are 100% my own.  Photographs were provided.