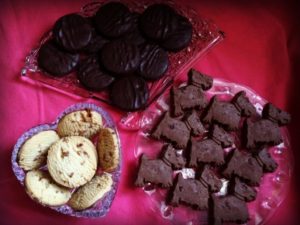 Valentine's Day is approaching in just a couple weeks!  Have you figured out a way to celebrate yet?  Let Walkers Shortbread be part of your celebrations to sweeten things up.  They have a line of chocolate products that are scrumptious!  We had the opportunity to try the chocolate collection and they were a hit with the family.  The kids especially loved the Chocolate Scottie Dogs.
I came up with five ways you can celebrate Valentine's Day with Walkers Shortbread.  If you have more ideas for incorporating these sweet treats into your celebrations please leave a comment below!
Five Ways to Celebrate Valentine's Day with Walkers Shortbread: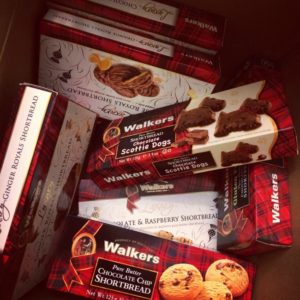 1.   Gift Giving:  Skip the traditional Valentine's Gifts and order a shipment of Walkers Shortbread to give to loved ones!  Visit the Walkers Shortbread website to place your order.
2.  Have a Family Party:  We celebrated Valentine's Day a little early by having a party in our dining room with the kids and noshed on all the different flavors.
3.  Use the Cookies for Dipping:  Make a Chocolate Chip Cheeseball and enjoy Walkers Shortbread in a whole new way!  Dip the cookies in this tasty dip and you have a perfect party dish.
4.  Indulge Yourself:  You do not need a crowd to have a celebration!  Simply make yourself a special snack plate full of Walkers Shortbread, put on your comfy pajamas and watch your favorite movie!
5. Share with Others:  Practice a Random Act of Kindness and share Walkers Shortbread with someone else.  You could drop some boxes off at a local police department or fire station.  Or better yet, throw a tea party at a Senior Citizen's home.  Let Walkers Shortbread bring joy to others!
Walkers Shortbread Chocolate Collection:
Chocolate & Raspberry Shortbread: A new combination of scrumptious raspberry shortbread, half coated with rich dark chocolate.
Chocolate & Toffee Shortbread: The perfect blend of Walkers Shortbread and delicious toffee pieces half coated in smooth milk chocolate makes for a mouth-watering combination.
Ginger Royals: A unique shortbread, combining the moistness of real stem ginger with the crispness of Walkers traditional pure butter shortbread, plus the irresistible taste of dark chocolate.
Orange Royals: Crisp pure butter shortbread baked with Mediterranean oranges and smothered in rich smooth milk chocolate.
Walkers Gluten Free Chocolate Chip Shortbread – A generous helping of chocolate chips provides a rich and luxurious complement to this classic shortbread cookie. By replacing the wheat with a blend of rice flour, maize flour and potato starch, you get all the pure-butter delicious taste – without the gluten!
Walkers Shortbread Chocolate Scottie Dogs – Made with chocolate dough and added chocolate chips, this chocoholic version of our ever-popular Scottie Dogs Shortbread is made with only the finest ingredients.
Walkers Chocolate Chip Shortbread – The timeless delight of Walkers' traditional Scottish shortbread with added luscious chunks of smooth dark chocolate chunks. Chocolate Chip Shortbread brings a certain self-indulgence to give you a real treat.
Disclaimer:  This is a sponsored post, I am a part of the Walkers Shortbread Society and I was compensated for my time and given products to sample.  All opinions are 100% my own as always, I really love shortbread!