Cirque du Soleil has brought one of my favorite shows back to town!  Cirque du Soleil's OVO  is only in town through the weekend and I simply cannot say it enough – you should see this masterpiece!  We caught the show tonight, and I can tell you it is phenomenal.   You will be entertained from start to finish by the magical acrobatics, fantastic music and silly antics of the bugs.
We took all four kids and my mom, as a Mother's Day outing and everyone was entranced.  And it was not just us, everyone in the arena seemed to be enjoying OVO.  I do not know of a show I have been to where I have heard the audience oooh and aaah and gasp in delight so many times.  OVO is perfect for all ages, both young and old (young at heart).  Read all about the show and see a few of my pictures below (not great quality but they will give you an idea of the body bending acrobatics that were happening).
Cirque du Soleil's OVO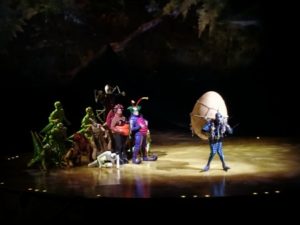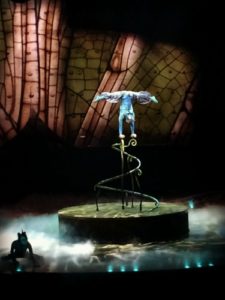 This is my favorite part of the show….it's not a great picture but these bugs were AMAZING!!!  Trampolines and a climbing wall were involved: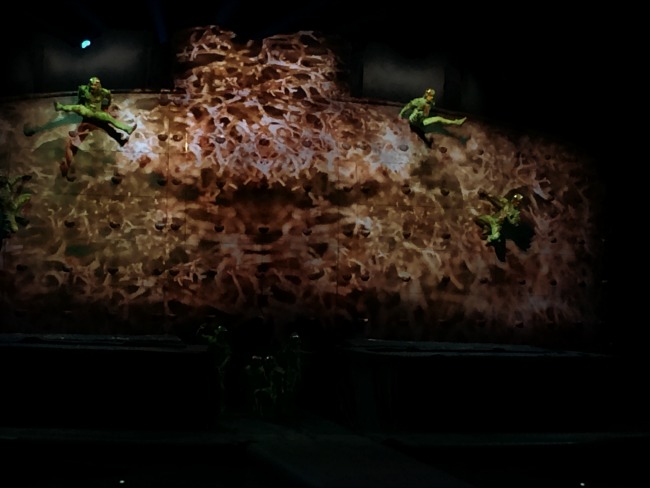 The Grand Finale: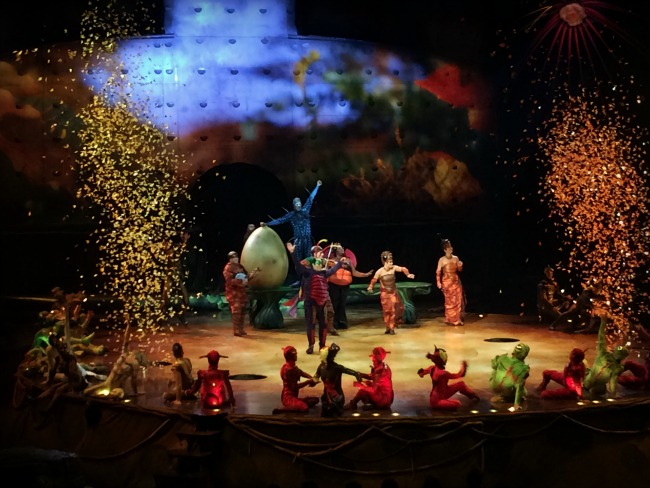 Cirque du Soleil presents OVO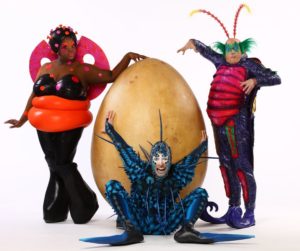 OVO WILL BE PRESENTED STARTING May 11th, 2017 AT THE U.S BANK ARENA FOR 6 PERFORMANCES ONLY!
Cirque du Soleil returns to Cincinnati in May 2017 with OVO, its newest touring show in arenas. The production will be presented at the U.S Bank Arena from May 11th to 14th, 2017 for 6 performances only, as part of a global tour in arenas around North America.
Thrilling more than 5 million people worldwide since the show premiered in Montreal in 2009 as a Big Top show- including a 2011 run in Cincinnati – OVO will embark on a new journey, performing the same captivating production, but now in arenas, giving more people the opportunity to enjoy a Cirque du Soleil show in their own town.
About the show
OVO, meaning "egg" in Portuguese, is a headlong rush into a colorful ecosystem teeming with life, where insects work, eat, crawl, flutter, play, fight and look for love in a non-stop riot of energy and movement.
When a mysterious egg appears in their midst, the insects are awestruck and intensely curious about this iconic object that represents the enigma and cycles of their lives. It is love at first sight when a gawky, quirky insect arrives in this bustling community and a fabulous ladybug catches his eye – and the feeling is mutual.
The cast of OVO is comprised of 50 performing artists from 12 countries specializing in many acrobatic acts. One highlight of OVO is the stunning Flying Act in which a group of scarabs soar high above the stage, from both edges to the middle landing on a platform.
Ticket Information
Tickets starting at $39 for adults (subject to change) and $25 for children. Senior, military, student discounts and family 4-packs available.   www.cirquedusoleil.com/ovo