Are you looking for a quick & easy Easter Egg craft to do with the kids?  Look no further, this craft is simple to put together and simple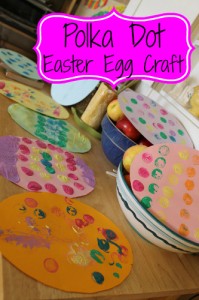 for the children to do!  I don't drink wine, but I'm always picking up corks at parties and saving them at home when we happen to have a bottle of wine.  I keep them all because I'm sure I will find projects to do with them.  Oh, the things I pick up and keep in our basement.  I'm sure my basement would be a much cleaner space if I didn't do this, but our art projects wouldn't be as interesting!  This craft is fun for all ages, it's perfect for little toddler hands, and the Mamas got in on the action too and made eggs!  We used these brightly colored Easter eggs to decorate our kitchen for the Easter season.
Here's how to make your own Polka Dot Easter Egg Craft ::
Collect your supplies :: I made a large egg stencil on Microsoft Word (they have an oval drawing tool) and then I cut out the egg shapes on a variety of light-colored cardstock.
Then I put some paints on paper plates (easy cleanup!).  I prefer to use
Crayola Washable Paints
so we don't get stains on our clothes.  Then stick a cork on each plate of paint, like so:
Bring in the kids and let them decorate their Easter Eggs!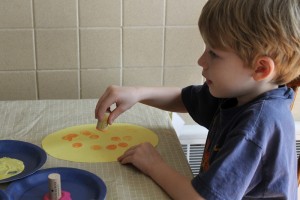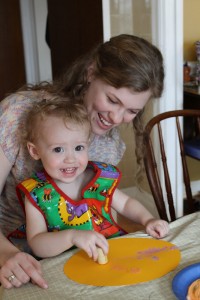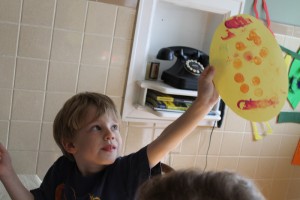 Such cool eggs were made!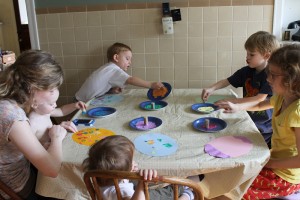 I suggest using a plastic tablecloth (I found mine at Target) because they are so easy to wipe off after the project.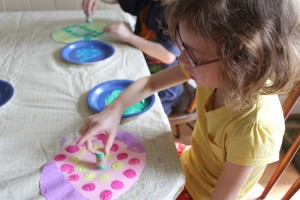 Ella's pretty little egg: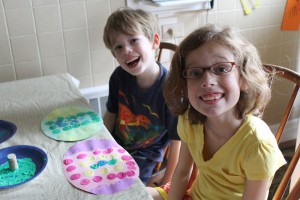 The finished products: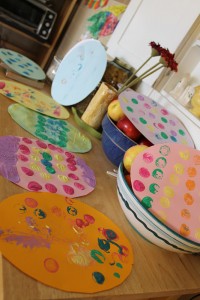 Do you have an Easter Craft you'd like to share?  Feel free to leave a link in the comments!