Another Monday, another Menu Plan!  I think it's been a few weeks since I've shared our menu plans with you…when things get busy at our house blogging gets put on the back burner.  My plan this week has some DELICIOUS recipe links…so be sure to check them out then print them or pin them!  For more meal planning inspirations see OrgJunkie's Menu Plan Monday roundup, or visit my Pinterest board of recipes I love to make!
Last week we dined on….
Pot Roast Sliders with Garlic Fries (I LOVE these sliders, and to mix it up, you can serve the pot roast meat over the garlic fries with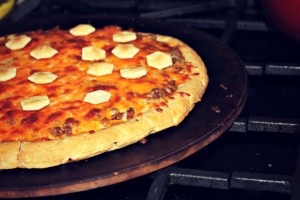 some cheese curds thrown in, which is yummy too!)
"Cincinnati Style Chili" Pizza with Salad
~ Last week I had made some homemade Cincinnati style chili (recipe handed down from Michael's grandfather) and I used the leftovers this week to make a pizza inspired by
Vicky from What Really Matters
.  I put the chili down on the crust instead of sauce, then topped with cheddar & mozz and baked.  When it came out of the oven we added oyster crackers and hot sauce – YUM.
Chicken & Pesto Stir Fry with Rotini
Slow Cooker Potato Soup (the recipe I tried was a DUD – but a friend has shared another recipe, and I'm going to try it next week!)
Pan Fried Tilapia & Onion Rings
And then we had a FEAST for Michael's parent's birthday dinner ::
Chicken Lo Mein (read the reviews on this one ~ I added oyster sauce & left out water)
Slow Cooker Honey Sesame Chicken (LOVE this!)
Beef & Broccoli (not sharing this recipe, it wasn't that great)
Fried Rice from Oriental Wok
Egg Rolls & Pot Stickers
Edamame
And for an appetizer I made Roasted Shrimp(tossed with olive oil and lemon juice and sprinkled with S&P – roast at 400 for 10 minutes) with this copycat Benihana shrimp sauce that I found online.  It was gobbled up in no time!
For dessert we had M&M cookies and Root Beer Floats.
I also did some baking this week….griddle cakes, whole wheat waffles, whole grain donuts (in my new donut maker!), granola and banana chocolate chip muffins.
As you can see, it was a very tasty week here….what have you been eating?