For my cousin Veronica's wedding a while back I offered to help put together the wedding invitations, wedding programs, and a few of the decorations for the wedding.  We wanted everything to be special without spending a fortune for decorations that are only used for one evening.  We found a way to make handmade, frugal & sentimental wedding decorations without breaking the bank.  We loved finding ways to cut corners while still making her wedding remarkable.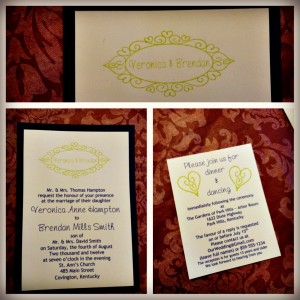 Ideas for Handmade, Frugal & Sentimental Wedding Decorations & Invites:
To make the invitations I purchased stamps from an Etsy Shop called "A Hue of Duck Egg Blue".    I used cream colored paper and  hand stamped all of the invites and reception information cards, and adhered the invite to navy blue card-stock.  Since our society is so technologically inclined there were no return cards or envelopes.  To save on postage costs the guests were asked to email their RSVP to a Gmail account that we created specifically for the wedding.  This not only saved money on postage, but it seemed to work really well to communicate with the guests about the event.
You can find "A Hue of Duck Egg Blue" on Facebook and on Etsy.  The creative genius behind this shop is located in Greece and she makes beautiful rubber stamps.  She was very sweet and helpful while I was working on the design of these invites. She doesn't just make wedding stamps, she has a plethora of custom stamps to choose from in her shop.  And they are all adorable.  I hope to order more soon for my business.  I ordered a special stamp that said "Veronica & Brendan" and she also created a special separate heart stamp for me to use to decorate the reception cards and the table number cards.  Those stamps were gorgeous, and we sure got a lot of use out of them for the wedding decorations!  I have to take this opportunity to mention, that if you are  interested in ordering handmade but reasonably priced invites for any occasion you should stop by my Cards by Katie Etsy shop, and if you don't see what you like, please know that I always take custom orders as well (Sorry…shameless plug for my business).
In line with keeping things simple I made the table number place cards with
the same stamp from the reception information card.  And then I created matching numbers for the tables using some of my scrap-booking tools to cut out the fancy shapes.  We laid the table number place cards on a table near the entrance in alphabetical order, and decorated the table with a beautiful fancy flower arrangement that was made for the rehearsal dinner the night before (more resourcefulness on their part…).
For the table decorations Veronica & Brendan wanted to keep it simple.  First there were the table number cards which I had made to match the invites and table place cards.  For the decorations, we stole an idea from my cousin Mara's wedding that same year, I suggested pictures of family member's weddings to decorate the tables.  Simple, sweet and memorable.  We contacted family  members and asked them to email us a picture from their weddings.  I edited all of the photos so that they were black and white and used black frames from the Dollar Store.  We ended up with pictures from so many weddings…parents, grandparents, great grandparents, aunts & uncles and more.  It looked so cool to have all of these family wedding portraits on the tables.  Aunt Mary added white roses in bud vases to the table and small candles in glass holders to complete the look.  The tables were so beautiful, and the wedding pictures had everyone talking.  At the end of the night we encouraged folks to take their pictures home if they saw one from their wedding.
Speaking of family, here's a shot of our family at the wedding.  This is probably only half of us pictured here.  My grandma is front and center in the blue dress.  She had twelve children and over 25 grand children, and I've lost count of how many great-grands.  My favorite thing about this side of the family is that it's always a party when we are together.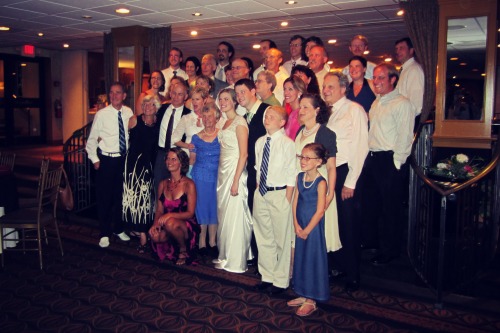 Veronica & Brendan's wedding was a blast, and it felt so good to work with my aunt and cousin to help design a beautiful and memorable wedding reception decor without busting their wedding budget.  At our wedding years ago we also had handmade table decorations, flower pots that were hand-painted silver and decorated with ribbon and inside the pots were candles that a friend of mine made for the occasion.  I've never seen the point in spending top dollar on centerpieces that will only be used for one night.
Wedding & Bridal Shower Inspiration:
DIY Birdcage Wedding Card Holder
Veronica's Wedding Shower: The Details
Jenny's Wedding Shower:  Pink & Black Roses and More…
Getting Organized, Miscellaneous Memorabilia (this is a good one for figuring what to do with random mementos like wedding invites)
For more unique ideas for handmade, frugal & sentimental wedding decorations spend some time browsing Etsy, and Pinterest and be sure to check out this post from Buzzfeed.  And if you have any ideas for unique, creative or fun wedding decorations, invitations or such be sure to leave a comment!