I wanted to share some fun St. Patrick's Day links with you to help you get in the mood for celebrating.  And then I have some links for recipes that aren't necessarily St. Patrick's Day fun related, but they have a bit of green or mint involved.  I love getting into the spirit for St. Patrick's Day!
A wee bit of St. Patrick's Day fun for everyone ::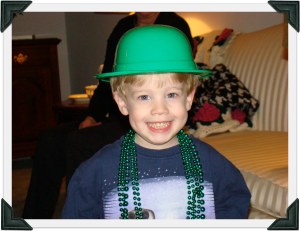 Pictures of my kids on Saint Patrick's Day(This one made me want to cry…they were so little!)
How to make your own Thin Mint Cookies (this really has nothing to do with St. Pat's, I just love Thin Mint cookies around this time of year)
Look for ways to create a Leprechaun Trap
GREEN Mac n Cheese...what?!?!  It's healthy..check it out!
Mint Chocolate Chip Pancakes (I say "ewwww" but I'm sure the kids will love them!)
For the Parents:  Shamrock Blizzards ~ technically you can make these child-friendly by leaving out the alcohol, but I think the parents deserve a treat!
Research your Irish Heritage at the Kenton County Public Library
A Leprechaun Gift (easy to make – for soda pop bottles – too cute!!)
Pictures from my trip to Ireland in 2004 with my mama, my sister and my baby girl.
Making your family a St. Patrick's Day Green Dinner (cute and tasty!)
The Crafty Crow has a great roundup of St. Patrick's Day Crafts
Rainbow Fruit Pizza…yummy AND healthy!
And if you live in the NKY or Cincy area, here's a list of fun events for the whole family on Family Friendly Cincinnati.
What kind of

tr

ouble

fun are you getting into this St. Patrick's day?