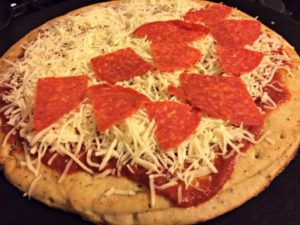 If you've read this blog for any amount of time you know that we are huge fans of pizza night for dinner.  I have always loved making my own dough, and Ella usually makes our sauce, but at times life is too chaotic to even make dough or sauce in time for dinner.  Sometimes I resort to purchasing store bought crust and sauce, and we are all pretty picky about which ones we've liked.  In all honestly in the past , I have not found a store-bought crust that we've all approved of.  That was not the case with Rustic Crust though.  We were given three different crusts and flatbreads to try out and they each made for great pizzas.  Their sauce was great too!  We made three different pizzas with them and each was met with thumbs up all around.  The flatbreads aren't just for pizzas though, they'd be perfect for dipping into warm appetizers.  I can see these becoming a staple at our house for last minute pizza nights and appetizer ingredients!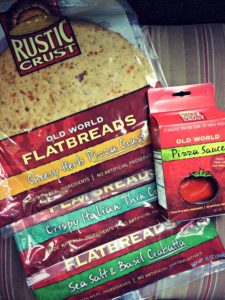 All Rustic Crust ready-made crusts are:
Made using traditional, Old World baking methods: Hand formed and double proofed for flavor
Use delicious, all natural ingredients: Select herbs and spices, no GMOs or artificial ingredients
Healthy for the whole family: Unbleached whole grain flours, no trans fats and no added sugar
Convenient ready-made pizza crusts that are ready to enjoy in minutes
Oversized Rounds for extra value
Made in the USA
Chicken Parm Pizza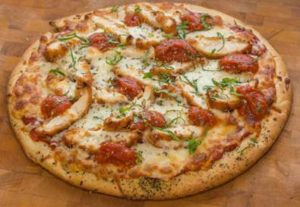 Ingredients:
1 Italian herb pizza crust
2 boneless, skinless chicken breasts, pounded thin
Salt and pepper
2 cups flour
3 eggs, beaten in bowl
2 cups panko bread crumbs
1 cup vegetable oil
1 ½ cups tomato sauce
1 cup thinly sliced mozzarella
¼ cup grated Parmesan
1/8 cup parsley chopped
1/8 cup basil chopped
Directions:
Preheat your oven to 425 degrees.
To start set up your breading station, with one bowl of flour, one bowl of eggs, one bowl of panko bread crumbs
Season with salt and pepper, then dredge the chicken in flour, beaten eggs, then panko. Fry the chicken in vegetable oil until golden brown and cooked through, remove from oil and blot fried chicken on paper towels
To build the pizza, spread the tomato sauce evenly around pizza crust, sprinkle the Parmesan and mozzarella over the pizza, slice the chicken in ½ slices and place on top of the cheese.
Bake for 8-10 minutes or until golden brown
Finish with fresh parsley and basil
Disclaimer:  This is a sponsored post, all opinions are 100% my own.  Chicken Parm Pizza recipe and picture provided.