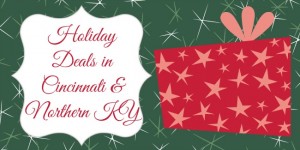 As mentioned in my SHOP LOCAL post, I love to do our holiday shopping at locally owned businesses. And when I need to use an online national business, I use websites like Giving Assistant to get a good deal! And one of my favorite "easy" gifts to give is gift cards.  I know, I know, I know….some folks think that giving gift cards is pretty unimaginative.  But in my mind, giving a gift card is like giving an experience!  I love getting gift cards to go out to eat or have experiences with my family.  We don't splurge much on dining out, so restaurant gift cards are always a plus for us!  I decided to put together a list of local restaurants and businesses that offer deals for customers who are purchasing gift cards during the holiday season.  Why not get some shopping done and get a little extra in return?  This list will be evolving and growing as I hear of more deals, so be sure to keep checking back!  Happy Holidays!  #ShopLocal
Holiday Deals in Cincinnati & Northern Kentucky ~ 
638 Madison Avenue, Covington
Coppins will have local pop up shops every Saturday in December. They also have a deal that for every $100 in gift certificates you buy, you get $15 free.  This deal ends on Christmas Day.
From now until the end of December for every $100 you buy in gift certificates you get a $20 gift certificate on the house.  The promotional $20 is valid from January 1, 2018 – March 31, 2018
129 East Second Street, Covington
Receive $5 gift card for every $25 gift card purchased, through the end of 2017.
All Jeff Ruby Gift Cards 20% OFF on Thanksgiving Day and Black Friday. Purchase online at JeffRuby.com  November 23rd & 24th only.  AND Cyber Monday deal where you can get a $20 BONUS Card with every $100 Jeff Ruby Gift Card purchased – online only at JeffRuby.com on Monday, November 27th. Good for use at ANY Jeff Ruby restaurant.
The Wilder & West Chester locations of Mellow Mushroom are giving you a $5 gift card when you purchase a $25 gift card.
For each $100 in gift cards that you buy in the restaurants between now and the end of December, you will receive $20 gift card as Our Gift to You. This $20 card can be used from 1/2/18 thru 3/31/18. Limit one card per visit, one per table. Gratuity not included, No Cash value. The $20 card expires 3/31/18.
1200 Broadway Street, Cincinnati
Gift Card & Nation T-shirt special:  $30 for a $20 gift card + a Nation shirt. (Shirts are usually $20), through the end of 2017
20% Off Gift Cards of $50 or More (Black Friday – Cyber Monday)
Buy $50 in Gift Cards, Get a Free $10 Gift Card (November 28 – December 31)
Also available online at shop.authenticwaffle.com
Promotion good at ALL Taste of Belgium locations
**Does your business offer a holiday promotion?  Submit the details using this easy peasy online form and I'll add you to my Holiday Deals Page!